The "Bulgarian umbrella" – examining the theory of a spectacular murder
Poisoned in London on 7 September 1978, the Bulgarian dissident Georgi Markov told the doctors treating him that he believed he had been poisoned by the KGB, mentioning a man with an umbrella. Surgeons found a tiny projectile in Markov's thigh, from which the deadly poison ricin had entered his system. Working with the sparse details, specialists developed the theory of the "umbrella assassination" in which the Bulgarian had been attacked by an unknown man wielding a killer umbrella. A reconstruction is displayed at the German Spy Museum. The operative approaches the target from behind and stabs him in the back of the leg with a needle-tipped umbrella. Squeezing a trigger on the handle of the umbrella activates a compressed air cylinder which fires a tiny poisoned pellet under the skin of the target, where it unfolds its deadly effect.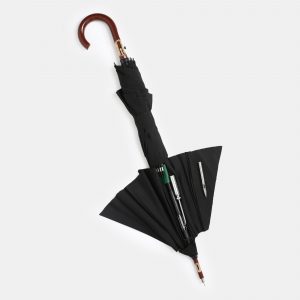 The exceptional construction of the "Bulgarian umbrella" was so fascinating that it held the public imagination for a long time and can still be found in a number of publications. Unfortunately, recent inquiries by Scotland Yard now point to the probability that Markov was shot not by a lone individual wielding an umbrella, but that his death was the result of the concerted action of a larger team. The murder weapon is now believed to have been a smaller hand-held weapon. Whatever the manner of his death, experts still hold the Bulgarian secret service, acting with the assistance of the KGB, responsible for the death of the author and critic of Communism.
Even though our exhibit has been overtaken by new research, it remains a potent symbol of the need to question long-held assumptions about the work of espionage agencies. Facts with a long pedigree can soon become old hat. A Police inquiry was launched to resolve a case which has exercised espionage scholars for almost 40 years. It is set to report in 2017.