The fact that today's German capital was, historically speaking, the Capital of Spies in the Cold War can hardly be denied. The situation of the divided city, which developed after the end of the Second World War, was too unique. Numerous publications follow the traces of the events and the large film studios of Hollywood appreciate the still existing flair of the city – film productions like Steven Spielberg's "Bridge of Spies" are the spectacular result.
The historical heritage provides for exciting tours through the city, but many places also tell very modern espionage stories.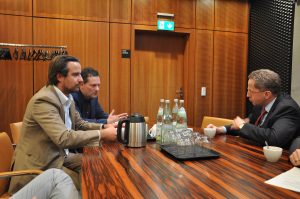 Hans-Georg Maaßen, President of the Federal Office for the Protection of the Constitution, reported in a 2013 interview with "Welt am Sonntag" that in his opinion Berlin is still today "the European capital of spies". During his visit to the German Spy Museum in October 2016, Maaßen alluded that this situation had not changed much.
A few days ago, a new bang: in the Committee on the Protection of the Constitution of the House of Representatives of Berlin, the State Secretary of the Interior, Torsten Akmann, took a clear position. In his opinion, Berlin is still today "a real espionage hotspot". The reason for this lies in the more than 150 embassies, from which, according to the intelligence service, espionage activities also proceed. The aims of these actions are diverse: On the one hand, the federal ministries in the capital are the focus of the attacks. In addition, economic and military espionage, as well as the work against opposition parties from the corresponding countries, always play an important role.
The extent to which the city is filled with embassies and ministries is, in fact, only made clear in a graphical overview. Embassies are displayed in blue, ministries in red (Click to enlarge):